PROGRAM MOBILITI 'INTERNATIONAL VIRTUAL EXCHANGE LECTURE'
PROGRAM MOBILITI 'INTERNATIONAL VIRTUAL EXCHANGE LECTURE'
Dalam situasi negara berhadapan dengan krisis pandemik COVID-19, pihak Fakulti Farmasi telah mengambil inisiatif melaksanakan program mobiliti secara dalam talian iaitu International Virtual Exchange Lecture melibatkan kerjasama di antara Fakulti Farmasi UniSZA dengan Fakultas Farmasi, Universitas Padjadjaran, Indonesia (UNPAD).
Program yang berlangsung pada 17 April dan 22 Mei 2022 ini melibatkan dua sesi kuliah yang disampaikan melalui aplikasi Zoom Meeting. Kursus yang terlibat adalah Pharmaceutical Analysis (PHM20703) dimana kursus ini turut ditawarkan oleh Fakultas Farmasi UNPAD pada semester yang sama (Quality Control of Pharmaceutical Dosage Forms). Bagi tujuan pengantarabangsaan, sesi pembelajaran turut memberi tumpuan kepada elemen perkongsian budaya dan antara aktiviti yang dicadangkan adalah kuiz bahasa, coretan sejarah negara, klip video budaya tarian, makanan dan/atau lagu berunsur kebudayaan yang bersesuaian dan bermanfaat untuk kedua-dua pihak.
Antara topik yang dibentangkan oleh kedua-dua pihak adalah Introduction to HPLC oleh Dr. Holis Abdul Halik, Fakultas Farmasi UNPAD, yang dikendalikan pada 17 April 2022, manakala Gas Chromatography in Pharmaceutical Industry oleh Dr. Syaliza binti Omar, Fakulti Farmasi UniSZA, dikendalikan pada 22 Mei 2022.
Inisiatif pelaksanaan program ini adalah untuk memupuk pembelajaran dalam talian secara global sebagai sebahagian dari usaha non-credited virtual mobility (inbound & outbound) bagi mewujudkan budaya pengantarabangsaan dalam kalangan pel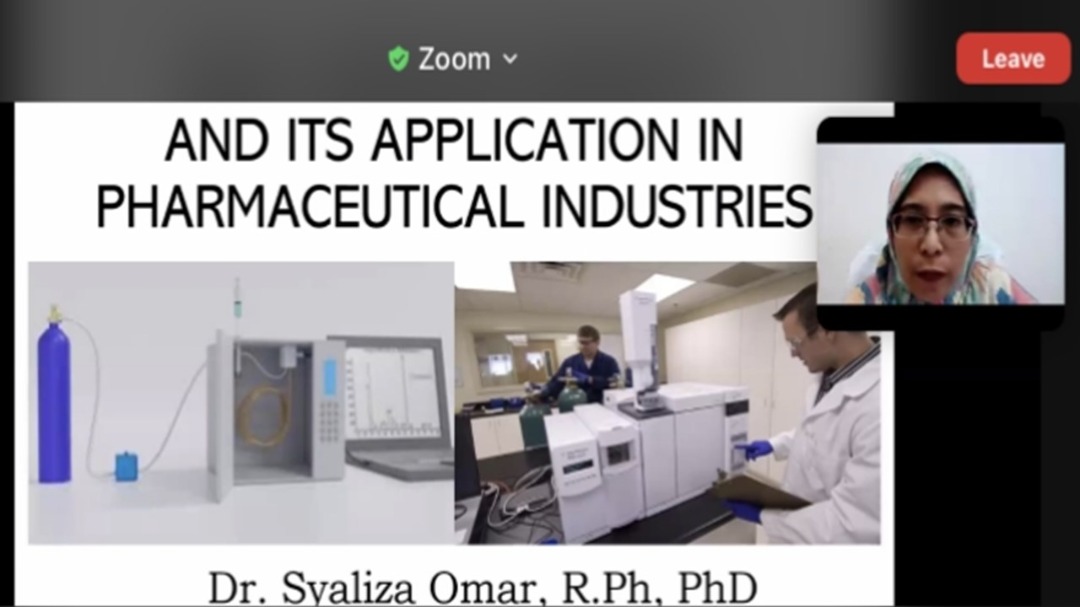 ajar serta kolaborasi pengajaran holistik yang bersifat merentas budaya dan benua.